March 20th Partial Solar Eclipse
Many people who experience a total eclipse often describe it as one of the most moving or significant positive events of their lives, and are often surprised by the intensity of that experience. Experiencing totality is an overwhelming of the senses – in the lead up to totality; you can feel that something big is going to happen. Then, when totality occurs, the stupendous beauty, drastic changes in the environment and awe-inspiring sight leaves most people in emotional overwhelm. Many lose themselves in the moment, sometimes crying, sometimes swearing. Intense emotions are experienced over a short period of time, which makes it difficult to find the words to describe what is happening. Total solar eclipses are rare events. Although they occur somewhere on Earth every 18 months on average, it is estimated that they recur at any given place only once every 360 to 410 years, on average, The total eclipse lasts for only a maximum of a few minutes at any location, because the Moon's umbra moves eastward at over 1700 km/h.
The next European Total solar eclipse will occur on Friday March 20, 2015. Totality occurs along a narrow path across the North Atlantic just making landfall over the Svalbard and the Faroe Islands. Totality will be just 2 minutes 47 seconds long while a partial solar eclipse will be visible over a region thousands of kilometers wide. The total phase of this solar eclipse is not visible in Galway, but it can be observed here as a deep partial solar eclipse, so this is still a spectacular sight. To see an animation of local seeing on the day go to HERE another useful website can be found HERE. It is the last total solar eclipse visible in Europe until the eclipse of August 12, 2026 that will be visible over the Iberian Peninsula, but will be followed in 2027 by another Spanish Total Eclipse with totality lasting up to 6 minutes in length, while in 2029 an annular eclipse lasting 7 minutes will also touch the peninsula.
Galway Astronomy Club will be holding a safe public observing event using specialised viewing equipment opposite Toft Park on the prom down from Seapoint on Friday morning starting at 8.30am..but NEVER look at the Sun as it can cause pernament eye damage. For more info call Brian at 0857298831
March 23 Workshop at NUI Galway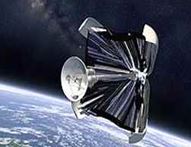 The era of Earth observing satellites is about 35 years old. During this time these complicated machines flying around our planet has provided us with a number of ground-breaking scientific insights while peering into the deep void of space while other are looking down at us and helping to protect us or to validate our weather and climate models. This workshop will look at a short bit of history relating to some of the larger satellites and manned orbiting outposts while also helping the observer with the use of Planetarium sortware. The venue we use is room 220 in the Physics Dept just off the main concourse at NUI Galway, look for directional signs or see more details on the link HERE
The evening sky show of February 20th was beautiful with the planets so close, during this event we witnessed a conjunction of the Moon, Venus & Mars.
This wonderful photo was taken by Galway Astronomy Club member Brian MacGabhann using his entry level DSLR, a Canon EOS 1100D with 70mm lens with just a 2 sec exposure at ISO 400.
April 13th Public Lecture
In November 1572, a new star appeared in the constellation Cassiopeia that was much brighter than Venus and dimmed over several weeks. This event belongs among the more important specific observation events in the history of astronomy and was witnessed by sky watchers including the famous astronomer Danish astronomer; Tycho Brahe. Because it had been maintained since antiquity that the world beyond the Moon's orbit was eternally other observers held that the phenomenon was something in the terrestrial sphere below the Moon.
However this challenged the Aristotelian dogma of the unchangeability of the realm of stars and Tycho's findings implied it was at least farther away than the Moon and he also found the object did not change its position relative to the fixed stars over several months as all planets did in their periodic orbital motions, even the outer. This suggested it was not even a planet, but a fixed star in the stellar sphere beyond all the planets. In 1573 he published a small book entitled "De nova Stella" thereby coining the term nova for a "new" star. This discovery was decisive for his choice of astronomy as a profession. Tycho was strongly critical of those who dismissed the implications of the astronomical appearance, writing in the preface to De nova Stella "O crassa ingenia. O caecos coeli spectatores" ("Oh thick wits. Oh blind watchers of the sky").
Dr Mark Lang was part of a team that studied the Supernova remnant using the VERITAS Array a major ground-based gamma-ray observatory located at the Fred Lawrence Whipple Observatory in southern Arizona, USA. High-energy gamma rays are associated with exploding stars (supernovae), pulsars, quasars and black holes. They always imply the presence of exotic and extreme physical conditions - high magnetic and electric fields, shock waves and cataclysmic explosions. So for Mark and his team that studied the remnant these extreme conditions and exciting phenomena are very interesting to astrophysicists. See you at the Westwood House Hotel for this talk at startig 7.30pm and join us for a chat with Tea & Coffee afterwards.