Winter night sky over Barna Golf ClubIf you've ever gazed in wonder at the night sky, pondered your place in the grand scheme of things or have an interest in Astronomy already and want to meet like-minded people then please come along to one of our meetings or public observing evenings. Everyone is welcome - absolute beginners to experienced observers. Like most Irish astronomy clubs, we exist mainly as a forum for satisfying our own personal interest and enjoyment of the subject we're passionate about: Astronomy.
We spend a lot of time and effort encouraging and promoting a broader knowledge of Astronomy in our community. Since our club was founded in 1998, we've been at the forefront of popularising Astronomy locally through public events. Whatever your level of interest is right now, this website will provide you with what you need to know to decide whether you'd like to join us. We'll be happy to see you – just as a visitor or as a potential member.
The Galway Astronomy club is a public group of people who meet monthly and share an interest in astronomy and its related subjects. We have a very active club with people from all walks of life and different ages with this single common interest. We do our best to make sure that everyone is made welcome to the club.
Our meetings are a varied programme of activities that include something for everybody. We hold regular observing nights where members get a chance to observe the night sky (weather permitting!) and the 'old hands' can show the newcomers round the skies.
We also have regular meetings aimed specifically at beginners. Learn what exciting objects are up there and how best to see them.We also have talks given by members on various topics within the subject, both theorethical and practical.
We would always suggest to anyone potentially interested to come along to the Club for a few weeks to decide if it is for them, and sample our varied meetings without pressure to join. There is no need to make an appoitment, just check our meeting programme the starts in September 2016 and make sure we are meeting and if we are, just turn up.
So why not give the Club a try, and explore the Universe with us!
---
How to Join the club

For information on the club and our events please add yourself to our mailing list by emailing us at This email address is being protected from spambots. You need JavaScript enabled to view it. Thank you!
Or just come along to any of our club meetings details are available in our meetings page

If you require further information contact the club Secretary phone Brian on 0857298831

A club observing Night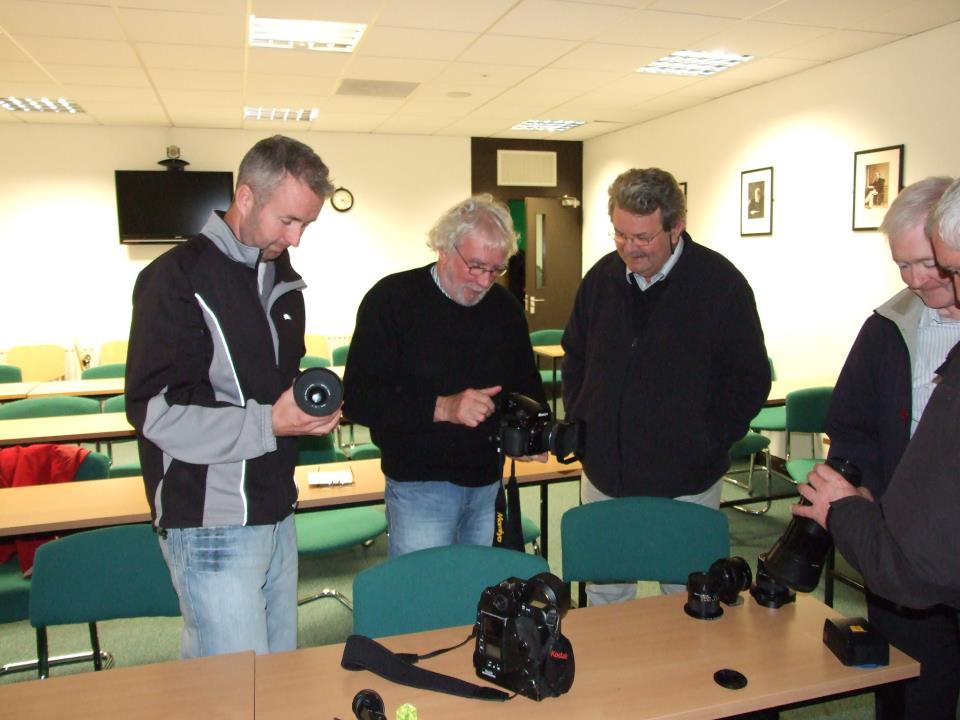 One of our free workshops
Benifits of joining our Club
Membership AdvantagBenifits

Monthly Club meetings - With speakers who are experts in their astronomical field of work

Monthly Observers Workshops - Free and aimed at developing your observing skills and techniques

Annual Astronomy Festival - Meeting with lively, expert speakers, Trade stands & displays

Discounts - Available to members for entry to all meetings and any other GAC events

Free Text/Circulars - Giving rapid notification of events visible in the sky and meetings

Printouts - Available free to members at all meetings on events visible in the sky monthly

Advice on buying your own telescope - what to get and what to avoid

Find out about events of interest to amateur astronomers

Outings- Visit place of astroonomical interest in Ireland


Help to run the club

Take advantage of our members' collective experience of astronomical observing: both amateur and professional.

Free secure parking at the Westwood House Hotel
| | |
| --- | --- |
| Meeting Entry for Adult members | €2 |
| Student/U16/OAP Members | €2 |
| Non-members | €5 |