May 12th Public Meeting Westwood House Hotel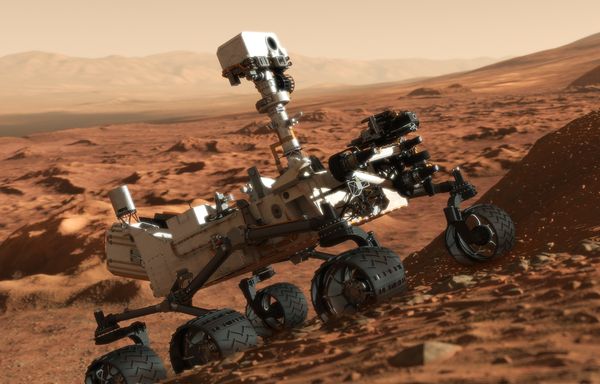 Our May 12th public lecture will be given by Michael Johnson a Ph.D Researcher in the field of mobile robotics at the University of Limerick. His talk will be an overview of future robotic planetary rovers that will be sent to far flung destinations such as Mars and Venus and possibly further. NASA's Mars Exploration Program is an on going robotic space mission involving two rovers, Curiosity and Opportunity exploring the planet Mars. It began in 2003 with the sending of the twin rovers Spirit and Opportunity to the Martian surface. The mission's scientific objective was to search for and characterize a wide range of rocks and soils that hold clues to past water activity on Mars and to make further investigations into findings by previous successful landers: the two Viking program landers in 1976 and Mars Pathfinder probe in 1997.

Curiosity is a car-sized robotic rover exploring Gale Crater on Mars as part of NASA's Mars Science Laboratory mission. The rover's goals include: investigation of the Martian climate and geology; assessment of whether the selected field site inside Gale Crater has ever offered environmental conditions favourable for microbial life, including investigation of the role of water; and planetary habitability studies in preparation for future human exploration.
While Curiosity's design will serve as the basis for a planned Mars 2020 rover mission the European Space Agency is planning to launch a rover known as "ExoMars" – short for Exobiology on Mars. The goal of this rover is to search for signs of life in an extensive way, using capabilities that have never been tested before on Mars. The ExoMars rover will carry a drill designed to bore deep into the Martian surface, extracting rock cores from depths of up to 2 meters. It will then process those rock cores, analyze the mineralogy of the sediments using IR and Raman techniques, and most importantly look for "biomarkers" – specific molecules that could be the fingerprint of early life on Mars. This rover will be ESA's first attempt to land a rover on another world, and therefore it is in some ways more limited than the audacious Curiosity rover. Unlike the radiogenic isotope power source for Curiosity, the ExoMars rover will be solar-powered; a choice that limits the cost but makes the rover less flexible.

On another world slightly closer NASA is planning a high-tech refrigeration robotic rover that could keep it functioning for weeks on the searingly hot surface of Venus. A long-lived Venus rover could help scientists understand why this hellish world with its runaway greenhouse effect, has become so different from Earth. The surface of Venus broils at a temperature of about 450 °C - hot enough to melt lead. Several probes in the Soviet Venera and Vega series, as well as a NASA Pioneer Venus probe, landed on Venus and returned data from the surface in the 1970s and early 1980s. But they all expired in less than 2 hours because of the tremendous heat. See you at the Westwood House Hotel at 7.30pm. See www.westwoodhousehotel.com
See Mars this month at its best
Did you see it? Last Monday, the Red Planet rose in the east as it passed opposition for 2014, and astrophotographers the world over were ready to greet it. And although Mars is slightly closer to us over this coming week, opposition marks the point at which Mars is 180 degrees "opposite" to the setting Sun in Right Ascension as viewed from our Earthly vantage point and denotes the centre of the Mars observing season. Opposition only comes around once about every 26 months, so it's definitely worth your while to check out Mars through a telescope now if you can. The technical term for Mars' place in the sky right now is just past opposition because it is opposite (literally, 180° around the sky) from the Sun. The Sun sets in the west, so after sunset look east. At midnight, when the Sun is lowest, Mars is at its highest. And closer to dawn as the Sun begins to rise in the east Mars will be sinking in the west. In 2014, Mars only reaches 15 arc seconds maximum in apparent size, a far cry from its 25″ appearance during the historic 2003 opposition. Now for the good news: we're in a cycle of improving oppositions... the next one on May 22nd, 2016 will be better still, and the 2018 opposition will be nearly as favourable as the 2003 appearance! And as an added bonus Saturn appears over the south eastern horizon just after 11pm. See our April observing guide HERE
Awards season is still in full swing! At the Board of Irish College Societies (BICS) last Thursday evening as the NUI Galway Astronomy Society won the overall Irish award for Best New college Society.
This is on top of winning the best new society and best departmental society at a recent gala event at NUI Galway - well done to everyone on their committee for such an excellent year of events and their hard work in achieving these awards!
If you have any queries regarding the Club call the chairperson; Ronan Newman at 0868434003