GAC April Meeting – 'Exploring the cradles of planet formation with Europe's largest telescopes' by Christian Ginski (University of Galway)
April 3 @ 7:30 pm

-

9:00 pm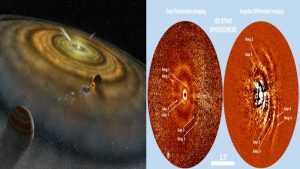 Talk: 'Exploring the cradles of planet formation with Europe's largest telescopes'
Speaker: Christian Ginski is originally from the small east German town of Jena where he studied physics and did his PhD. His PhD thesis focused on determining the orbits of directly imaged planets and brown dwarfs around nearby stars.
He finished his PhD in 2012 and did a short postdoc in Jena. Afterwards he moved to the Netherlands in 2014 and has been there for the past 8 years with positions at the Anton Pannekoek Institute for Astronomy in Amsterdam and at Leiden Observatory. During this time he did frequent trips to Chile to observe with the ESO Very Large Telescope. His primary focus is planet formation and he is using state of the art adaptive optics cameras to obtain high resolution images of dust and gas disks around young stars in the solar neighbourhood. He is very much observationally focused 🙂  At the beginning of March he joined the Centre of Astronomy at the University of Galway as lecturer.
Share This Story, Choose Your Platform!